Birthplace of Rolling Stone Magazine
by Luxury Portfolio on January 3, 2017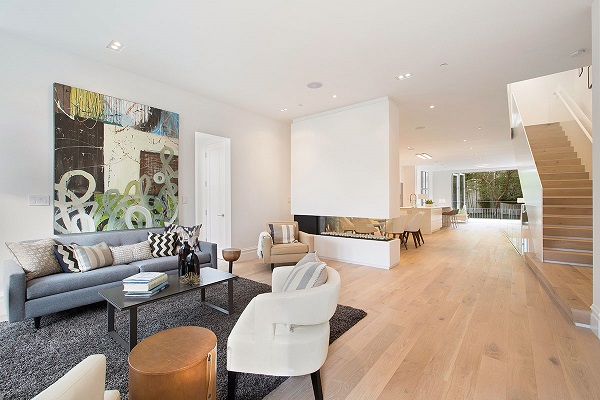 Located in San Francisco's Cole Valley neighborhood at 164 Belvedere, this five-bedroom home has been beautifully renovated and developed by its current owner.
"We took this property which had decades of deferred maintenance and developed it into something elegant that is now architecturally significant inside and out.  I hope this home will be a joy to live in for the eventual new owner.  The main floor is 73 feet from front to back, it's so rare to find a property in the city that can accommodate such a depth.  This allowed us to create a glorious layout and features like a dynamic architectural stair.  Most homes this size are four or five levels and can be a bit awkward to live in.  Having size and volume on three levels feels quite grand, the house seems more like 6,000 square-feet rather than 4,500 square-feet.  In working with an outstanding architecture firm, we were able to accomplish a significant build that gives this particular home a true sense of place, history and luxury.  We were intent on preserving the historic architectural nature and balancing it with design oriented modern details.  With enough concrete, steel, time, money and good design it is possible to have a modern-day Victorian that should last for another 100 years or more," said current owner, Chris Durkin.
Baron Wolman is best known for his photography work for Rolling Stone magazine between 1967 and 1970 and according to the historical report provided by Page & Turnbull, Inc.  Between 1967 and 1971 Baron and Juliana Wolman owned and occupied the home.
During Wolman's occupancy of 164 Belvedere, he built a darkroom in the basement and used the second floor as a photography studio.  During the time that Wolman lived at 164 Belvedere Street, he photographed KPMS Radio Station staff, Frank Zappa, James Brown, Timothy Leary, Jimi Hendrix, the Grateful Dead, George Harrison, The Who, Mick Jagger, Neil Young, Howlin's Wolf, Lightnin' Hopkins, B.B. King, Sly Stone, NMiles and Betty Davis, Willi Mae "Big Mama" Thornton, James Taylor, Janis Joplin and Smokey Robinson, among others. In addition, 164 Belvedere Street was the location where Wolman photographed Grace Slick, Blue Cheer, Creedence Clearwater Revival, many of the "groupies" for the famous Rolling Stone groupie issue, Bill Graham, and other famous bands and musicians. For Wolman, every picture tells its own story.
Features of this exquisite home include a vertical garden wall spanning three floors which creates an element of nature in the bedrooms and living areas, exterior glass decks from the master bedroom and family room, smart home features, large floor-to-ceiling custom windows, custom kitchen and wet bar cabinetry with built in appliances (5 burner gas cooktop, 48" refrigerator freezer in kitchen) and so much more.
View more about this Luxury Home in San Francisco, California and see more photos below.